Joe Fresh is my new fav online clothing store! :-)
I don't actually buy a lot of clothing online, usually make my own (I love to sew and knit) or buy something locally. But in the past few months, I got to know about
Joe Fresh online
and now I am hooked!
The bargains I've already got there are IMO, nothing short of amazing!
Here's a sample of my latest finds, from their clearance section:

Active Sherpa Jacket (on sale for $12 and change!)
Just a beautiful jacket, in every way. A bit fitted, not baggy like so many of these types of jackets are. Wonderful, soft, luxurious Sherpa cloth, welt pockets, decorative zipper...
I also bought one in Black, I was so happy with this one!
Keep your routine on track this winter with a fleece-lined Sherpa jacket made for winter workouts.
Shell: Sherpa; Lining: Fleece, 100% polyester

Puffer Jacket in Coral
(I bought this jacket for less than $20.CDN. It was recently further reduced to less than $10 CDN!)
This photo does not do this jacket justice. The color is actually a true coral (pink/soft orange) shade, which I always love. A hard to find color usually.
Nice fit, again not baggy. SUPER warm! Decorative zipper, fully lined.
I get compliments on this jacket, every time I wear it. I usually pair it with a black turtleneck, jeans and black boots.
It also came in some other lovely shades, including an amazing
cardinal red
. I was SO tempted to get that one too, but fought off the urge to splurge!
;-)
Layer on a little extra warmth with a puffer at a fresh price.
Full front zipper placket
Shell: Pongee; Lining: Plain Weave, 100% polyester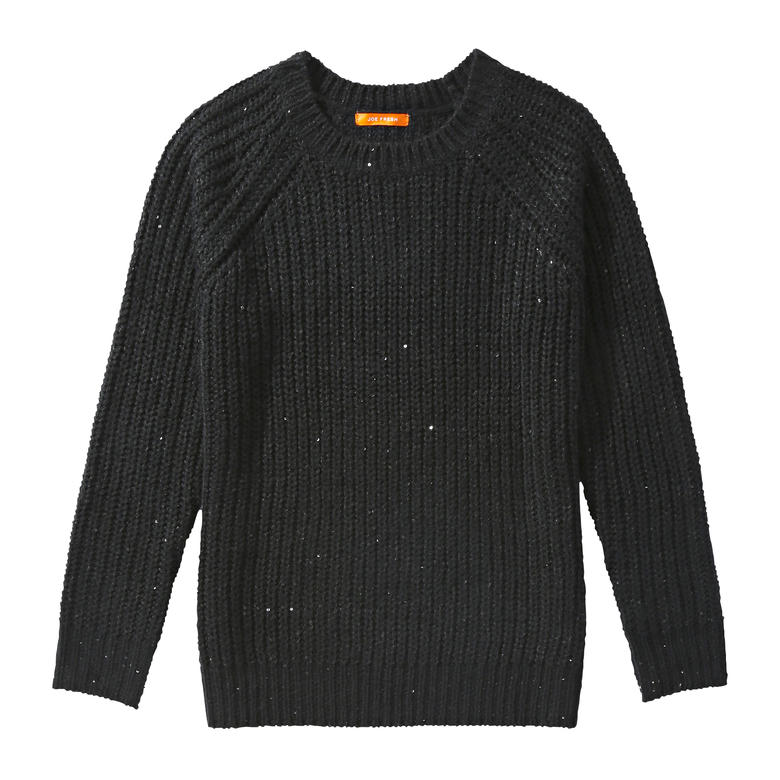 Sequin Shaker Knit Sweater (this was a real bargain at just over $6!)
Again, the photo does not do this sweater justice, it is SO pretty and well made.
I love shaker knits and this one is flecked with small sequins throughout. I thought it would be perfect for the holidays next year, to wear for a more casual but still dressy look. I also got one in a
snowy white
and it's lovely too.
Nice and long too! And at 5'9", I love
long
sweaters!
:-)
This season, we've introduced our warm shaker knit sweater to sequins for a subtle, sparkly effect.
Ribbed collar, cuffs and hem
Due to the delicate nature of this fabric, extra care may be required when handling and washing
Shaker Knit, 57% acrylic/43% polyester
I got this sweater for Joe and he just loves it!
(And for less than $10, I love it too!) :-)
Get comfortable, get cozy in a retro-inspired Nordic knit.
Fair isle pattern sweater
Ribbed collar, cuffs, and hem
Jacquard, 80% lamb's wool/20% nylon
***
What has really impressed me about Joe Fresh clothing is the quality of the materials they use, the beautiful colors of their clothing and the better than average workmanship.
The attention to detail is amazing, especially considering the price they are selling their products for. Even their regular prices are low, considering what you are getting. Welt pockets, lots of items with natural fibers, full linings, decorative details like colored, large zippers, just right sizing with a nice tailored but not tight shaping, even in their casual items.
Their customer service team is just terrific too! I had a small issue with a couple of items that I ordered online and they took care of it right away and to my satisfaction.
Free delivery to your door, with a minimum order of $50. And easy, no hassle returns.
They also have
4 retail stores in the New York area
, that carry a wider range of products including: adult and children's wear, shoes, handbags, jewelry, beauty products and bath items. The
Joe Fresh
line is also sold at hundreds of
Real Canadian Superstore
locations, across Canada.
One sad thing I did note, at the
Joe Fresh
Wiki
page.
In 2013, they had a tragic accident at one of their garment factories in Bangladesh, a location that employed workers from numerous clothing companies. The
Joe Fresh
employees who were affected by this tragedy have been compensated and they now have an employee overseeing their overseas operations/working conditions.
Overall rating for this company.
Very Good. 4 out of 5